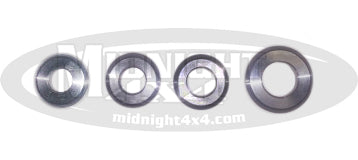 $5.63
$0.00
Chromoly Weld Washers
Weld Washers
These 4130 chromoly weld washers are designed to reinforce a bolt hole and help keep it from getting wallowed out. 
1/2" I.D. x 1-1/4" O.D.

9/16" I.D x 1-1/4" O.D.

5/8" I.D. x 1-1/4" O.D.

3/4" I.D. x 1-1/2" O.D.
*Sold Individually
All products are generally stocked on shelves. If amount ordered is in excess of stock, longer processing time may apply.